In Conversation – Building a Sustainable Future: Satya Priya Yadav, CEO, e-novation Centre shares insights on sustainable infrastructure and its future
Satya Priya Yadav, CEO, e-novation Centre in discussion with Nidhi Joshi talks about how real estate is warming up to sustainability and why the way forward is green buildings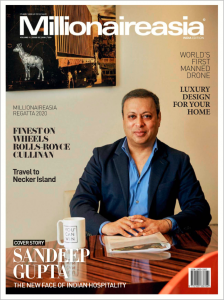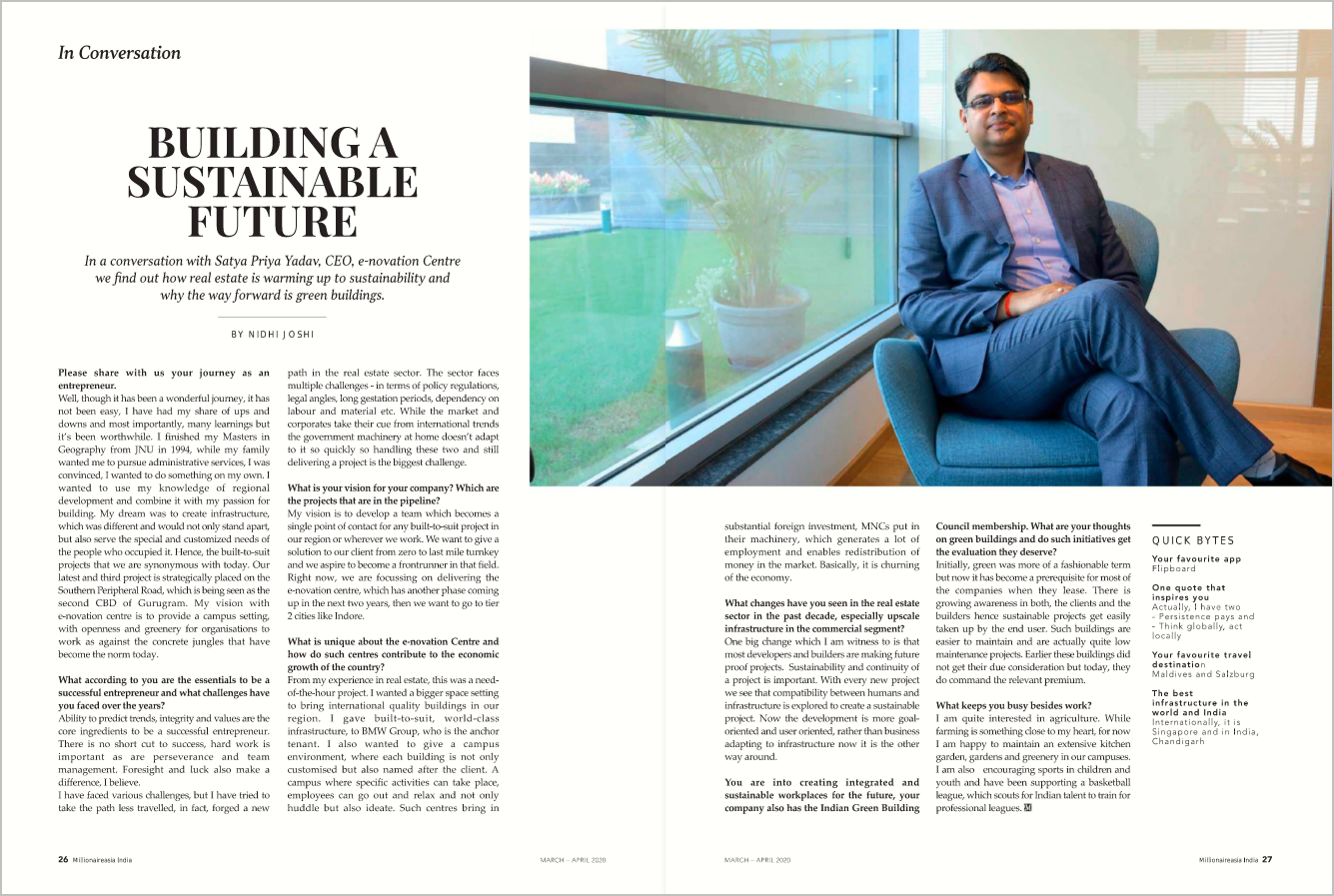 Building a Sustainable Future
Please share with us your journey as an entrepreneur.
Well, though it has been a wonderful journey, it has not been easy, I have had my share of ups and downs and most importantly, many learnings but it's been worthwhile. I finished my Masters in Geography from JNU in 1994, while my family wanted me to pursue administrative services, I was convinced, I wanted to do something on my own.
I wanted to use my knowledge of regional development and combine it with my passion for building. My dream was to create infrastructure, which was different and would not only stand apart, but also serve the special and customized needs of the people who occupied it.
Hence, the built-to-suit projects that we are synonymous with today. Our latest and third project is strategically placed on the Southern Peripheral Road, which is being seen as the second CBD of Gurugram. My vision with e-novation centre is to provide a campus setting, with openness and greenery for organisations to work as against the concrete jungles that have become the norm today.
What according to you are the essentials to be a successful entrepreneur and what challenges have you faced over the years?
Ability to predict trends, integrity and values are the core ingredients to be a successful entrepreneur. There is no short cut to success, hard work is important as are perseverance and team management. Foresight and luck also make a difference, I believe.
I have faced various challenges, but I have tried to take the path less travelled, in fact, forged a new path in the real estate sector. The sector faces multiple challenges – in terms of policy regulations, legal angles, long gestation periods, dependency on labour and material etc. While the market and corporates take their cue from international trends the government machinery at home doesn't adapt to it so quickly so handling these two and still delivering a project is the biggest challenge.
What is your vision for your company? Which are the projects that are in the pipeline?
My vision is to develop a team which becomes a single point of contact for any built-to-suit project in our region or wherever we work. We want to give a solution to our client from zero to last mile turnkey and we aspire to become a frontrunner in that field.
Right now, we are focussing on delivering the e-novation centre, which has another phase coming up in the next two years, then we want to go to tier 2 cities like Indore.
What is unique about the e-novation Centre and how do such centres contribute to the economic growth of the country?
From my experience in real estate, this was a need-of-the-hour project. I wanted a bigger space setting to bring international quality buildings in our region. I gave built-to-suit, world-class infrastructure, to BMW Group, who is the anchor tenant. I also wanted to give a campus environment, where each building is not only customised but also named after the client.
A campus where specific activities can take place, employees can go out and relax and not only huddle but also ideate. Such centres bring in substantial foreign investment, MNCs put in their machinery, which generates a lot of employment and enables redistribution of money in the market. Basically, it is churning of the economy.
What changes have you seen in the real estate sector in the past decade, especially upscale infrastructure in the commercial segment?
One big change which I am witness to is that most developers and builders are making future proof projects. Sustainability and continuity of a project is important. With every new project we see that compatibility between humans and infrastructure is explored to create a sustainable project. Now the development is more goal-oriented and user oriented, rather than business adapting to infrastructure now it is the other way around.
You are into creating integrated and sustainable workplaces for the future, your company also has the Indian Green Building Council membership. What are your thoughts on green buildings and do such initiatives get the evaluation they deserve?
Initially, green was more of a fashionable term but now it has become a prerequisite for most of the companies when they lease. There is growing awareness in both, the clients and the builders hence sustainable projects get easily taken up by the end user. Such buildings are easier to maintain and are actually quite low maintenance projects. Earlier these buildings did not get their due consideration but today, they do command the relevant premium.
What keeps you busy besides work?
I am quite interested in agriculture. While farming is something close to my heart, for now I am happy to maintain an extensive kitchen garden, gardens and greenery in our campuses. I am also encouraging sports in children and youth and have been supporting a basketball league, which scouts for Indian talent to train for professional leagues.
QUICK BYTES
Your favourite app: Flipboard
One quote that inspires you: Actually, I have two – 'Persistence pays' and 'Think globally, act locally'
Your favourite travel destination: Maldives and Salzburg
The best infrastructure in the world and India: Internationally, it is Singapore and in India, it is Chandigarh